Microsoft Cloud Voice and integrating your telephony into Teams: tech talk
< Overview
Blog, Interview Digital Transformation 29-06-2020
We received an enthusiastic response to the first part of this interview with Marcel Besteman, which was all about Microsoft Cloud Voice and integrating telephony into Teams. That interview focused mainly on the business advantages – in terms of manageability, productivity and innovation. This time, we take a closer look at the technology itself. What are the options and what are the technical considerations?
You can find the first part of this interview on our website: Manage your telephony the easy way with Microsoft Cloud Voice, with Teams integration
Marcel, we ended the first part of the interview by talking about some of the technical possibilities – and impossibilities – of Microsoft Cloud Voice. Can you tell us a bit more about those?
"Of course! When an organization expresses an interest in using Microsoft Cloud Voice, we will start off by carrying out some initial checks. We'll be looking out for potential deal breakers, which I've already mentioned a couple of:
Calling plan licenses are not yet available everywhere in the world. It's important to know whether Microsoft Cloud Voice is available in the regions where your organization operates. The areas covered are growing all the time, of course, and you can also opt for a hybrid system. But it's essential to check that out in advance.
It's also important to have a clear picture of your existing switchboard and telephony system. Do you still have analogue systems in use? Perhaps in very specific locations? Does Microsoft Cloud Voice also offer those functionalities too?
And a last important check to carry out is the Session Border Controller (SBC). That's quite a detailed technical exercise. The bottom line is that if you choose to connect your telephony with the Microsoft 365 environment from an old-fashioned PBX call centre, the SBC needs to have been certified by Microsoft. If that's not the case, we can still find a work-around, but it's definitely a key part of the initial check."
What does the migration process look like?
"Like every transition or transformation, we work using a migration plan. In this case, it consists of four steps: Analysis, Preparation, Configuration, and Testing & Deployment. And actually, that first step is a project in its own right."
The interview continues below the picture

"In the Analysis phase, we'll look at whether voice integration is a suitable solution for your organization. We'll find out whether the service is offered in your region(s), whether there are certain systems that you would want to retain in a hybrid model, or whether you can move right over to Microsoft completely. We'll check the session border controllers (SBCs) and whether Microsoft can offer you everything that you want and need. We'll give you a clear picture of how much the whole solution will cost, and the benefit you'll get from it. In short, we'll draw up a business case. The end product of this Analysis phase is a proposed solution, and then you can decide whether to give us the green light."
And what's next?
"After that we can get started. In the Preparation phase, we'll prepare the licenses and take care of any number porting. At the end of that phase, you can start to make outgoing calls using Teams.
In the Configuration phase, we'll start implementing auto attendance, call queues and service numbers. We'll be working towards a specific migration date, when the old telephony service provider will release the numbers and Microsoft will start administering them. From that point on, you'll also be able to receive incoming calls in Teams.
And finally, there's the last stage of Testing & Deployment. That's the moment of truth, because you'll already be live. It's a matter of test, deploy, test, deploy. Using a thorough test plan, we'll get this done as quickly as possible. We carry out a risk analysis and have a back-up plan set up in advance to prevent any temporary lack of connectivity. And then comes the fun part – collecting all those old VoIP telephones that are now surplus to requirements. You can start thinking of a good use for those!"
Can you tell us some more about the various configurations that Microsoft offers?
"There are several ways that you can switch to Microsoft Telephony Solutions. As you can see from this chart, there are four options. I'd like to highlight the first two. Numbers three and four deal with users of Skype for Business, and are only relevant if you're already using that. That's mainly only relevant for very large companies."
The interview continues below the picture

"For the first two options, the main difference is in the administration:

Option 1: Phone system with calling plan
You transfer all the administration to Microsoft. That means that you port your numbers to Microsoft and you set up a call plan with them. Then you can get rid of your legacy telephony provider and the PBX – you'll no longer be needing them.

Option 2: Phone system with own carrier via direct routing
You can also choose to have your numbers and switchboard managed by a 'classic' telephone provider, and only take the frontend from Microsoft. That's what we call a hybrid system and it's useful if there are specific exchanges or analogue systems that you want to retain. Or if you have ongoing contractual obligations, for example.
A hybrid set-up can be used for the entire organization, or only in certain departments or locations where option 1 (Phone system with calling plan) is not yet possible. Often, we choose to move office environments over to Microsoft Cloud Voice completely, right from the start. That's because they're usually set up in a relatively simple way. And it's easy to combine them with other parts of the legacy system that need to be retained, which we can link to the Microsoft environment using Direct Routing.
With both options, you can enjoy the advantages of Cloud Voice – in terms of administration, maintenance, dependence and the complexity of your systems. You can easily standardize your configurations across different locations. And another nice thing is, you no longer have to invest in outmoded technology."
What do you mean by that?
"As a technology, telephony was developed decades ago and requires very specialist knowledge, but it's just not needed any more. It's almost completely obsolete. Everything is going into the cloud, and we're all starting to get used to the fact that these days, Microsoft can provide everything. As far as I'm concerned, you no longer need all those old-fashioned telephone lines, with all the maintenance and administration that they require.
If I were a CIO or IT manager, I'd want to be able to control my own telephone system myself. The last thing I'd want is for my IT department to require highly specialist knowledge – and all the associated costs – just in order to keep my telephone lines running. Imagine how much easier it would be to take care of those major and minor changes yourself, internally. It's simple to set up and administer call plans, auto attendants, virtual resource accounts, and so on… But with an old-fashioned telephone system, that's simply not an option.
But we're not really comparing like with like here. Traditional telephony doesn't offer all the versatility that Microsoft Cloud Voice offers. In my opinion, as an organization you need to making it easier for people to work flexibly, away from their desks, in any way you can. Cloud Voice is a powerful driver of that change."
Would you like to know more about Microsoft Cloud Voice?
We'll be happy to give you a free one-hour consultancy session to demonstrate what Microsoft Cloud Voice could mean for your organization, with no obligations. For more information, a demo, or to make an (online) appointment, why not get in touch with Gert Veldhuis at gert.veldhuis@transitionexperts.nl or on +31 (0)85 – 487 29 01.
About the expert: Microsoft Cloud Voice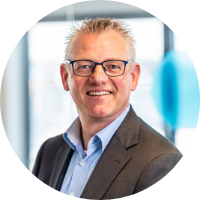 Introduction: Marcel Besteman, experienced transition and programme manager, and a familiar face for many, as one of the partners at Transition Experts. He previously worked for big names such as Imtech, Capgemini and Ernst & Young. He has founded several companies and was one of the founders of Transition Experts ten years ago. With 25+ years of experience, he continues to be enthusiastic about IT transitions and transformations.
Marcel is very experienced in Microsoft 365. We already interviewed him about Microsoft Teams and Microsoft Power Platform.
About this series of interviews
This is the eighth part of a series of interviews on Modular Digital Transformation (MDT). MDT is our way of making digital transformation more tagible: we split up into smaller themes, such as blockchain, big data and RPA. These stand-alone modules allow you to focus very specifically on one aspect of digital transformation.
Catch up with all the previous interviews and publications in this series. Want to make sure that you never miss an interview in this series? Why not sign up for our newsletter? Then you'll get every interview right in your inbox!

Recent news

Digital transformation and process optimalization - two sides of the same coin
Digital transformation has become an essential theme for many companies and organizations in recent years. More and more business processes are digitizing in order to achieve efficiency and respond to changing market conditions. And although digitization can bring many benefits, it's important not to forget that simplifying and optimizing your business processes is just as important. Read more.

We are moving!
After 10 wonderful years in our office on Atoomweg, we are moving to a new office. But we're not going far. Our new office is also on Atoomweg, about 300 metres eastwards. Read more.