Unlock the potential of your people with Power Platform! But is your IT department prepared?
< Overview
Blog, Interview Digital Transformation 28-05-2020
Even for IT managers, CIOs or CTOs who are relatively unfamiliar with the Microsoft ecosystem, the enormous potential of Microsoft Power Platform is undeniable. This low-code development platform gives every user the opportunity to develop their own applications and to integrate these into your business software in a user-friendly way. It has enormous potential for businesses. So many opportunities, but some risks too. How does Power Platform work? And how should you prepare for that inevitable question: 'can we start using Power Platform for ourselves now?'
Ask Marcel Besteman about Microsoft Power Platform, and you'll sense his enthusiasm immediately. He dives straight in:
"I'm a great fan of Power Platform, because I think it's a real game changer. It has the power to unlock the potential of your business and your people, and of course, it's such a waste to leave that potential untapped… Low-code development is the future. It enables users to be guided by the data and to be responsive and agile, responding to market developments instantly. And it also reduces the pressure on programmers.
Power Platform enables businesses to adapt much more quickly – to devise a solution as soon as a problem appears, and to adopt that solution pretty much instantaneously. That's the great strength of Power Platform. And it can also take the pressure off IT staff and IT Departments, removing those bottlenecks too.
But as always, you need to think carefully about the most sensible way to implement it. And preferably, you need make a decision on that before someone in the organization decides that they want to start using Power Platform for themselves. IT managers and CIOs need to understand what is coming down the line, and that their organization will want to be a part of the automation revolution. But it's down to you to start preparing for that. It's important to take the lead, rather than be led by events. And to make sure you have a good strategy mapped out ahead of time."
For those who are not completely up to speed yet, can you give us an idea of how Power Platform works?
"Sure. The Power Platform is part of Microsoft 365. It falls under Advanced Productivity, which people will already know from Microsoft Teams. You can find a brief introduction to Advanced Productivity on our website. Specifically, the Power Platform is all about making it easier to work with data and programming, without the need for specific programming knowledge.
There are four elements. You have Power BI, Power Apps and Power Automate, a trio of tools designed to help you make data-driven decisions. And the fourth element is Virtual Agents, which I see as a different type of creature."

"To summarize:
Power BI: Power BI is all about Business Intelligence. You can use it to visualize data, build dashboards and analyse business data. The great thing is that it enables every employee to work in a data-driven manner.
Power Apps: Met Power Apps makes it easy to develop new apps. And you can do this even if you don't have programming skills. It's low code, or even no code at all. You store the data by linking your Power App to, for example, Sharepoint, Common Data Services (CDS) or an SQL server.
Power Automate: Power Automate is a tool for processing tasks and automating workflows. It provides a wide range of standard connectors that you can use to construct workflows. You can use it to connect hundreds of apps and make the data available in Power Apps, for example. And again, you won't need a single line of code.
So here's a simple example. I built an app for Transition Experts which we use internally to request holiday leave and days off. I built the front end using Power Apps – that's where employees enter the leave days that they want to request. And using Power Automate, I constructed a workflow, so that a process is initiated whenever a new request comes in. A few e-mails are generated, because of course each request then needs to be approved. And finally I made a nice dashboard, so that all our employees can see at a glance how many leave days they have taken so far this year and so on. The app was useable on mobile devices from day one, so it's very widely used.
Well, that's just one simple example – and I didn't need to use a single line of code to do all of this. So anyone could create an app like this, in any department and for any kind of process. You might want to automate the onboarding of new employees. Or speed up application procedures, display data from important databases, set up business intelligence dashboards… It's pretty easy to think of a hundred examples."
And what about the other part of Power Platform – Virtual Agents?
"The Virtual Agents element is a different story. That's all about Artificial Intelligence (AI). You can use it to create bots, like the chatbots you see on the customer service websites of larger companies. It's a great opportunity for larger companies that want to automate part of their service desk, for example.
Last year I was working for a large organization on a bot that was actually integrated into MS Teams. Employees could ask questions in Teams – questions which would otherwise have been handled by the service desk. So questions about passwords and error messages, or how to request a new laptop, for example. At that particular organization, we were able to reduce the number of questions coming into the service desk by around 200 every day. When you look at it like that, it's easy to see the business case…"
You told us earlier that low code is the future. How do you think it's going to change the way businesses operate?
"There will always be a demand for specialists who are good at programming. But currently, we have a serious shortage of good IT people. The workforce of most organizations only has a small percentage of programmers.
Take a look at this image. The brown curve shows the average ratio between the number of staff in an organization and the presence of technical skills. On the right, at the bottom, you can see the programmers – staff who are fluent in all kinds of programming languages and have a wide range of technical skills. As you can see, they're only a small part of the workforce."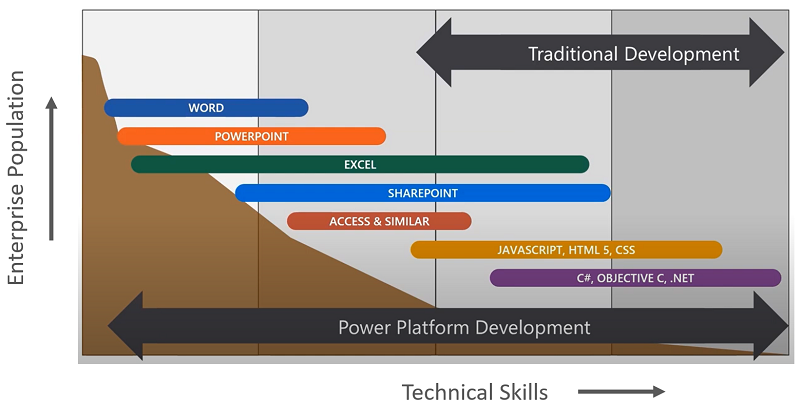 Bron: Technical Skills across an organization via Youtube
"And up at the top, on the left, there are the employees who can use Word and PowerPoint. That's a much larger group, because you don't need many technical skills for that. However, if you can do a few things in Word, you'll also be able to do a few things in Power Platform. So you could build the holiday request app I described earlier, for instance. What this means is that, overnight, Power Platform can reduce your dependence on that small club of people who have the real technical skills.
I'm not saying that every employee will suddenly be building complex apps, but you will enable many more people to work with data in an accessible way and to be automating workflows. And as for the skilled IT developers, they can use Power Platform to make really big strides much more quickly. So Power Platform makes working with data a lot more efficient."
Is there a "but"?
"'Well, if you're not careful, you could quickly see a proliferation of custom-built tools and apps across your organization. And that might not necessarily be a good thing. Because what about ownership, governance? Who will be responsible for administering all those apps, and what about support? Well, these same questions apply to everything you do in the field of Advanced Productivity.
You always need to ask yourself: what will I allow my users to do? If we take my app for requesting days off, it would seem logical to link that up with the HR database. But that database might contain all kinds of data that you don't want to share with the entire organization. Before you know it, users might also have access private data. Suddenly they can see every holiday request across the whole organization, or every hour of overtime worked, or even salary data. So you have to plan things carefully and think ahead.
Data regulations – and specifically privacy and GDPR – are also essential. You'll have a lot of data, both from your within own organization and from your employees. And possibly also from customers or users. But are you legally permitted to show all of that data? You also need to keep a proper record of everything. Because when people come to you to ask what purposes their data has been used for, you need to be able to provide them with a definitive answer."
So there's a flip side too…
"Yes, but there always is, right? I'm very enthusiastic about this, as I think I've made clear. Power Platform offers so many opportunities, and the business case often makes itself. But as always, you have to be aware of what you are getting into and plan properly. Preferably before you start getting questions from people around the organization about whether they can get to work using Power Platform. That's probably the real challenge here." 
---
Marcel Besteman: the Microsoft Power Platform expert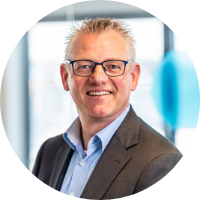 Introduction: Marcel Besteman, experienced transition and programme manager, and a familiar face for many, as one of the partners at Transition Experts. He previously worked for big names such as Imtech, Capgemini and Ernst & Young. He has founded several companies and was one of the founders of Transition Experts ten years ago. With 25+ years of experience, he continues to be enthusiastic about IT transitions and transformations.
Marcel is very experienced in Microsoft 365 and is willing to tell us all about the opportunities. A few weeks ago, we interviewed him about the implementation and adoption of Microsoft Teams.
Would you like to know more about Microsoft Power Platform? Then why not get in touch with Marcel at marcel.besteman@transitionexperts.nl or on +31 (0)85 – 4872900.
You may also be interested in:
The integration of telephony in Microsoft Teams using Cloud Voice
In a few weeks, we will interview Marcel again. This time about the integration of Cloud Voice in Microsoft Teams. Including practical examples and clear business cases, in which the complete interoffice telephone is transferred. This may be interesting for ordinary office situations, but certainly also for call centers and other departments where telephony is the core business.
---
Next edition!
In this serie of interviews on Modulaire Digitale Transformatie, we focus on several stand-alone modules. Soon we will publish an article about CIO as a Service and User Experience Monitoring (UXM).

---
Modular Digital Transformation
This is the fourth part of a series of interviews on Modular Digital Transformation (MDT). MDT is our way of making digital transformation more tagible: we split up into smaller themes, such as blockchain, big data and RPA. These stand-alone modules allow you to focus very specifically on one aspect of digital transformation.
Previous articles in this series are:
Would you like to know more about digital transformation in general, or one of our specific modules? Please contact Gert Veldhuis at gert.veldhuis@transitionexperts.nl or (+31) 085 – 487 29 01.
Want to make sure that you never miss out on the next interview in the series? Then why not sign up for our newsletter? Then you'll get every interview right in your inbox!
Recent news

Digital transformation and process optimalization - two sides of the same coin
Digital transformation has become an essential theme for many companies and organizations in recent years. More and more business processes are digitizing in order to achieve efficiency and respond to changing market conditions. And although digitization can bring many benefits, it's important not to forget that simplifying and optimizing your business processes is just as important. Read more.

We are moving!
After 10 wonderful years in our office on Atoomweg, we are moving to a new office. But we're not going far. Our new office is also on Atoomweg, about 300 metres eastwards. Read more.