Getting Microsoft Teams up and running 'as quickly as possible': every IT manager's dream - or is it a nightmare...?
< Overview
Blog, Interview Digital Transformation 28-04-2020
There's been no getting away from it over the past few weeks: with huge numbers of people working from home, many organizations have been scrambling to provide collaboration tools. Colleagues want to make video calls, collaborate online and share files. But what do you do if the organization doesn't have the right tools in place to do this? Well, you could try rolling them out yourself. Meetings on Zoom (but no more than 40 minutes, if you're using the free version), file sharing using Dropbox (using private accounts as a stop-gap solution), and WhatsApp groups if you need to contact people quickly… All these solutions are doing overtime right now.
The collective switch to working from home and the roll-out of the tools required to do this – it's every IT manager's dream, and nightmare. On the one hand, it's wonderful when end users are open to new software solutions. But… when those same end users try setting up their own solutions and connecting them all together? That's a different story.
Data legislation alone means that an awful lot of solutions simply aren't legally permissible. You can't just start processing customer data or other sensitive data using whichever tool you want. Implementing these types of tools requires a clear strategy and thorough preparation. Of course, all the technology needs to mesh as seamlessly as possible, but there are also issues concerning security and governance.
The use of Microsoft Teams is a good example of this. It's a standard part of Microsoft 365 (formerly Office 365), and is presented as a platform for collaboration and communication. It's a versatile tool that enables colleagues to chat, make video calls and collaborate on documents. But a lot more is possible, and at Transition Experts we're happy to work with it. But simply switching to Teams without doing the necessary groundwork is never a good idea.
The specialist's perspective: implementing & adopting Microsoft Teams
This week, we kick off our series of interviews about our new proposition: Modular Digital Transformation. Every week, a specialist will talk to us about a specific module. In the first interview, we speak to Marcel Besteman, who tells us about the implementation and adoption of Microsoft Teams.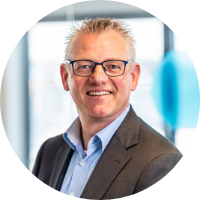 Introduction: Marcel Besteman, experienced transition and programme manager, and a familiar face for many, as one of the partners at Transition Experts. He previously worked for big names such as Imtech, Capgemini and Ernst & Young. He has founded several companies and was one of the founders of Transition Experts ten years ago. With 25+ years of experience, he continues to be enthusiastic about IT transitions and transformations.
Let's cut to the chase, Marcel. What's wrong with simply switching to Microsoft Teams from one day to the next?
'Well, where to start…? I understand completely that people have had to switch to working from home unexpectedly, and they've had to find a way to do that quickly. People want to get on with their work, and if they didn't have the right tools to do that, they've just had to find them. So we've seen a huge rise in the number of Zoom meetings and file sharing using Dropbox – and that works just fine up to a point. But when end users switch over to these stop-gap solutions, they can't tell which of them could pose a serious threat to their business. Legislation on privacy and security is strict, and 'picking whichever tool does the job' just isn't compatible with that.
If you want to implement a platform such as Microsoft Teams properly, you'll need to take account of governance and policy issues. You'll need to make decisions on the strategic, tactical and operational levels. And there's a whole series of issues to consider before you switch to working in Teams.'
And what are those issues, typically?
'Think about all those chats, for example. How long should they be stored for? What happens when people leave their current job and go to work for someone else? Which data should it be possible to share? What is the policy on document saving? How do we ensure that all the documents are kept private and secure? Do you want any user to be able to create a new channel? Is that useful for you – or not? Are you going to allow remote access? What are guest users allowed to do – and what not?
And I could carry on and list 200 or so other questions that need to be thought about. Naturally, some of them are more urgent than others, and I don't want to give the impression that things are more complicated than they really are. Sometimes you can get through the list pretty quickly, but it is certainly important to consider every risk very carefully. It very much depends on the type of organization and the types of data you're working with. But in all cases, you need to have thought about all of this before you make the switch – you can't just cross your fingers and hope for the best. Otherwise it's only a matter of time until you're faced with an unpleasant surprise.'
How does that process work?
'Well, as I mentioned, implementing a platform like Teams involves policy issues. It's a complex product. And on top of the technology itself, you'll need to look at things like sharing information and data, privacy, security…
Governance is another important area. You need to define roles and responsibilities. Then you need to think about how to set Teams up. That is actually a policy issue. So all those questions that I already mentioned need some careful thought. What are you going to allow the different types of user to do, how long should data be kept, who should be able to access it? That kind of thing.
Once you have a clear picture of governance and the structure you're aiming for, then you can start involving the end users.'
And then you're into the adoption phase. Why is that so important?
'It's become a key phase in recent years – adoption is much more important today than it used to be. That's because in the past, users were completely dependent on their IT department, but nowadays that's no longer the case. There are alternatives everywhere. A few years back, the IT department would decide which solutions people would use, and the users had no choice. But today users have so many possibilities and they know that, so they need to be persuaded of the utility of the solution that the IT department chooses for them. And you'll need to have to have a pretty persuasive story if you want people to use your solution. Let alone use it in the right way!'
And how do you ensure that people use solutions in the right way?
'Internal adoption can be divided into four steps. We follow Microsoft's Service Adoption Plan for this. It's based on four stages – Awareness, Engagement, Measurement and Management – which cover the entire adoption cycle.'

'Basically, Awareness is all about communicating to people that a particular product is on its way. You look at the 'Champions' within the organization – the power users. Those are the people who will guide their colleagues through how to use Teams. Because it's a highly complex product, make no mistake about that.
The next step is Engagement. You identify which departments within the organization you will start with. Often that will be the IT department, but preferably you'll include some willing business teams too. And then you provide them with as much support as possible. This enables you to monitor – what goes to plan straight away, where is more attention required, are we providing enough support, how can we roll this out further from here? If everything has gone to plan, you'll have some initial success stories that you can communicate within the organization. And gradually, more and more teams will be formed and start using the software.
Ultimately, the end user is always right and in the Measurement phase, we keep monitoring, analysing and making adjustments. For example, we monitor the extent to which Teams is actively being used. We want to know how many incidents and support requests are coming into the service desk, and how many people are completing the training. Clear targets are set in advance, and if we don't make those targets, we'll go back to the drawing board.
And the final phase is the Management phase. That's the final straight. We'll use the feedback from end users to optimize the set-up. We'll review the policy issues again, and there may be new services or services you would like to introduce.'
What do you add to that programme, as a change manager? What added value do you bring?
'You have to remember… Microsoft bases everything purely on its own product. They don't know about your organization, your processes, or the people who will be using the software. They simply supply a software product. But of course, it makes a huge difference whether you are an organization that only has knowledge workers, or a care institution with doctors, nurses and staff who all need to work together online.
As a change manager, my focus is not on selling a product, or getting Microsoft 365 working in a technical sense – although of course we can provide technical support, too. My focus is on your people, your organization and your processes. We make sure that the software is being utilized as effectively as possible, and that the right employees are using it in the right way.'
And what about cases where Microsoft Teams was already being used? Because some organizations have been using Teams for some time already, and now they're using it even more intensively due to coronavirus?
'Perfect – then we can identify exactly which functionalities are already being utilized effectively, and where there is still room for improvement. We'll find out how the end users are using Teams, which integrations could bring new opportunities and whether the existing support systems are meeting expectations.
Teams is also an excellent platform for bringing together all the different parts of Microsoft 365 and third parties. Many companies only use the basic functionality: the standard Office programs, chat, video calls and collaboration on documents. But Microsoft 365 is highly versatile and is capable of much more than that. You can use the Power Platform to work on Business Intelligence in a reasonably accessible way. And with a little extra coding, you can build apps and virtual agents, automate your processes and analyse your data.
Depending on which license you have, there is quite a lot of functionality and potential in M365, which many organizations actually purchase separate software for. And they're often paying a lot of money for that separate software. But you may already have the required capacity without knowing it. This is the type of thing that we'll look out for when Microsoft 365 or Teams has already been in use for a while: how can we get the most out of it?'
Tell us a bit about Teams for advanced users.
'It all depends on your organization. I recently carried out a project for one organization to integrate all their telephony services into Teams. It's called Voice Cloud. As a result, all calls are now placed and received using Teams. It doesn't matter if you're calling the reception desk or the director. Phone calls come in to him or her through Teams, and outgoing calls are also placed from within Teams.
That means they can get rid of all their VOIP phones. No more switching between headsets or different devices. You can log into Teams on your desktop, laptop, tablet and mobile phone, and then you can use those devices to make and receive calls. You can call from various business numbers, including call-group menus and security groups. And you can set the call up in whatever way you want.
That kind of integration is what makes Teams a really powerful platform with the potential to be used throughout your working day. And it has so many functions that can help you to work more effectively and reduce costs.'
---
Next week!
Marcel will tell us more about optimizing Teams in a future interview. That includes the Power Platform and integration programmes like Voice Cloud. He will also tell us about standardization and keeping the Teams environment neat and tidy: what is best practice when it comes to structuring and organizing working methods?
But… Before we return to Teams, we are going to take a look at something different. We'll be sticking with Microsoft 365, which Rob Dekker will walk us through, including the introduction of the complete package and all the different aspects that need to be considered.
Next month, we'll have interviews on other modules such as CIO as a Service and User Experience Monitoring.
About Modular Digital Transformation
This is the first in a series of interviews on Modular Digital Transformation (MDT), our new proposition, which we introduced last week (also see: Just a small slice of digital transformation for me…). Through MDT, we aim to make the digital transformation easier to digest: we split it up into smaller themes, such as blockchain, big data and RPA. These stand-alone modules allow you to focus very specifically on one aspect of the digital transformation. It's a way of breaking things down into bite-sized chunks. You can read more about it on our website: Modular Digital Transformation. 
Recent news

Digital transformation and process optimalization - two sides of the same coin
Digital transformation has become an essential theme for many companies and organizations in recent years. More and more business processes are digitizing in order to achieve efficiency and respond to changing market conditions. And although digitization can bring many benefits, it's important not to forget that simplifying and optimizing your business processes is just as important. Read more.

We are moving!
After 10 wonderful years in our office on Atoomweg, we are moving to a new office. But we're not going far. Our new office is also on Atoomweg, about 300 metres eastwards. Read more.