CIO as a Service: an experienced, dedicated and flexible expert on call for your organization
< Overview
Blog, Interview Digital Transformation 09-07-2020
A dedicated, full-time CIO is not an option for every small and medium-sized organization, and often it's unnecessary, too. This is exactly why the as-a-service approach is so advantageous: you get someone with a wealth of knowledge and experience, without the hefty price tag of employing a full-time specialist.
At Transition Experts, we've recently begun offering a new service: CIO as a Service. It's actually similar to a service that we've been providing for many years already in the form of interim assignments or projects. But now we are offering it in a new format, as part of our Modular Digital Transformation. In this interview, our colleague Dirk van Sichem tells us all about it.
So, Dirk, what does CIO as a Service actually involve?
"In essence, it's like hiring a CIO in the form of a subscription. We make sure that an experienced and effective CIO is available whenever your organization needs it. That person gets to know your organization really well, knows exactly what the issues are and can guide you through the decisions that need to be made.
It's a really useful solution for smaller and medium-sized organizations which, for whatever reason, do not have a CIO of their own. Every organization will run into issues, policy questions or projects that require an experienced and knowledgeable CIO.
The as-a-Service approach is flexible and very effective. Continuity is guaranteed. You get support from somebody with a wealth of knowledge and experience, without the hefty price tag of employing a specialist full-time.
And of course, that can also apply to larger organizations that sometimes need an extra pair of hands, or a fresh pair of eyes. For example, if you need good support right away, because you find yourself temporarily without a CIO or dealing with a reorganization. Or sometimes you need an outsider who can look at things with a greater degree of objectivity and neutrality."
Can you paint a picture of what the work involves?
"It's very wide-ranging. As a CIO, you're involved in developing and maintaining an IT strategy in line with the policy of the organization, for example. That includes drawing up and updating the IT budget, and managing new or existing contracts and supplier relationships. You are evaluating, prioritizing, checking and monitoring everything that happens in the field of IT.
So it's a really broad function. Experience is essential. That's where the on-demand aspect comes into its own. Sometimes an organization needs a sparring partner – someone who can help them to see the bigger picture. At other times, you'll be setting up a specific large project or coming into help in an emergency. That variety is what makes it so interesting for me personally."
And how does that work in practice? What issues are you dealing with the most?
"Well, in many organizations, the IT Department is doing a pretty good job. Everything is ticking along and things are being done properly, emergencies are dealt with quickly, and everything looks fine for the short term. But for the longer term, you also need a vision and a strategy.
You need someone who can decide what needs to be done to make sure that you'll still be doing great in five years' time, too. And who can also take the action that is required. If nobody asks those kinds of questions, or nobody is there to answer them, the IT Department will end up increasingly out of line with the organization. Just keeping everything running smoothly isn't always enough.
That's where we come in, as a CIO, making the connection between the business and the IT department. Outlining an IT strategy and policy for the organization is a whole different category to day-to-day IT management. It can really help if somebody can look at things objectively – somebody external to the organization."
What is your ideal client for CIOaaS?
"We all know a company where the general manager runs the organization, along with the head of finance and the head of IT. The departmental heads then make sure that their own departments are playing their role, that everything is running smoothly. But the management still needs a sparring partner, someone who can bring together the IT Department and the rest of the company at a strategic level.
Suddenly, a problem comes in from nowhere – there's an issue with information security or an urgent question like 'what do we need to do to stay competitive?' That's the kind of business that I like to support. But they often don't need that support five days a week. Sometimes it just takes a series of good meetings to provide them with the direction they need, and to make sure that they make the right decisions.
From there you can start putting that strategic direction into practice through projects. So it works in two ways: first, we help the general manager to choose the right path forwards, and then we give the Head of IT the right tools to get started."
Do you ever come up against resistance?
"Yes, inevitably that does happen sometimes. If the management team does not have enough confidence in the IT Manager, for instance, so they call someone in from outside. Naturally, that can lead to resistance. That's only normal, but as long as you handle it in the right way, it's not normally a problem.
At least… the resistance is not a problem, but the lack of confidence in the IT manager may be, of course. But we can work on that, too. We can provide CIO coaching and mentoring, for example. You can even do that using your own training budget. Depending on what the team needs, we can work on that kind of issue and make sure the whole team moves in the right direction together."
How do you make sure that you stay up to speed with developments at the organization?
"When an organization purchases CIO as a Service, we actually commit to ensuring that there's always someone available for them. And by always – I really do mean always. Certain projects can be planned in advance, like the annual budget. But as a CIO you also need to respond to emergencies. You don't always have the luxury of planning everything in advance, or getting familiar with the organization.
We make sure that we're always aware of the big picture and the most important developments. Our customers have one primary contact person as standard. That person will know everything about the organization. But of course, something urgent could crop up just when that person is on holiday or unavailable.
So we always make sure that we study the organization thoroughly when we embark on a new partnership, and we stay up to date at all times. We start with a short but intensive introductory meeting, when we learn all about the organization and its business. We document everything thoroughly and keep everything up to date.
That's how we guarantee continuity at Transition Experts: someone is always there for you. Someone with expert knowledge, and detailed knowledge of your field and your organization."
So in principle, do clients have a 'regular' CIO who they can call on?
"Yes, basically your primary contact person is also your regular CIO. We choose that CIO with care, because there needs to be a good fit in terms of culture, vision and maturity. Naturally, you want someone with the right knowledge and experience – a good match with the organization. Preferably someone who is familiar with specific processes in your industry, or who takes a very innovative approach.
But that doesn't mean that there can only be one person supporting your organization. As far as I'm concerned, you can rest assured that every good CIO has a good network. And if you're working at the strategic level, always looking at the bigger picture, you need a wide network of specialists who can use their specific expertise to guide you.
We want to make sure that our clients get the most out of that, because Transition Experts has a very extensive network. So if I'm visiting a client as a CIO and I find out that a blockchain policy is required, then I know exactly who to call. And we do everything completely transparently and in consultation with the client, of course. In my opinion, that's an important part of the added value of a CIO: a wide network of IT specialists – in every conceivable field."
Would you like to know more about CIO as a Service
We'll be happy to give you a free one-hour consultancy session to demonstrate what CIO as a Service could mean for your organization, with no obligations. For more information or to make an (online) appointment, why not get in touch with Gert Veldhuis at gert.veldhuis@transitionexperts.nl or on +31 (0)85 – 487 29 01.
About the expert: CIO as a Service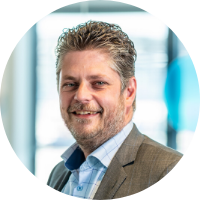 Introduction: Dirk van Sichem, experienced transition and project manager. A familiar face for many, as one of the partners at Transition Experts. Dirk has over 25 years of experience in a range of sectors: from business services and the construction sector to logistics and the steel, oil and gas industries. He also has extensive experience in IT service provision.
About this series of interviews
This is the ninth part of a series of interviews on Modular Digital Transformation (MDT). MDT is our way of making digital transformation more tagible: we split up into smaller themes, such as blockchain, big data and RPA. These stand-alone modules allow you to focus very specifically on one aspect of digital transformation.
Catch up with all the previous interviews and publications in this series. Want to make sure that you never miss an interview in this series? Why not sign up for our newsletter? Then you'll get every interview right in your inbox!

Recent news

Digital transformation and process optimalization - two sides of the same coin
Digital transformation has become an essential theme for many companies and organizations in recent years. More and more business processes are digitizing in order to achieve efficiency and respond to changing market conditions. And although digitization can bring many benefits, it's important not to forget that simplifying and optimizing your business processes is just as important. Read more.

We are moving!
After 10 wonderful years in our office on Atoomweg, we are moving to a new office. But we're not going far. Our new office is also on Atoomweg, about 300 metres eastwards. Read more.