User Experience Monitoring (UXM): "You have no idea how often issues occur but NO call is made to the help desk!"
< Overview
Blog, Interview Digital Transformation 15-06-2020
According to the IT department, all the lights are showing green. They're keeping a close eye on the network, servers and applications and there are no issues showing. Yet the help desk is busy fielding calls from users with problems. Or, there are issues but the helpdesk is not receiving any calls at all. Sound familiar? Then it's time to give yourself a better insight into what your users are actually experiencing.
A PC that freezes occasionally, applications that won't launch, unpredictable internet connectivity or lagging response times. Every user will recognize these problems. And it falls to the IT help desk to find the solutions. User Experience Monitoring (UXM) can help dramatically speed up the troubleshooting process.
Better still, UXM also enables proactive troubleshooting. In this week's interview, Rob Dekker tells us more about UXM.
Rob, tell us what makes UXM different from other monitoring tools?
"We use all kinds of monitoring tools in IT. We monitor the performance of networks, servers and business-critical applications. We know exactly when each part of the IT landscape is not performing as well as it should be.
But UXM enables us measure something completely different: performance from the users' perspective. And that can give us a completely different picture from monitoring how each individual element of IT infrastructure is performing independently."
Why is that?
"Now that we're moving towards all kinds of as a Service methods for various technologies, we get more and more pieces of the IT jigsaw from different suppliers. So the average user in the average office could easily be using software from dozens of different suppliers on any given day. And that's before we even consider the hardware.
So let's assume that all the different pieces of software and hardware are basically working fine, and everything is as it should be. But in practice, what can happen is that two pieces of software conflict, or that software and hardware don't work together properly, for example. There might be an applications that's taking up too much of your system or applications that are disrupting each other's performance.
User Experience Monitoring can help you to see when and where this is happening, so that you can find out exactly what is going on and why the user is experiencing a particular issue. And by analysing the data and taking a proactive approach, you can also nip any issues in the bud and optimize the user experience. You can also use it to measure the experience levels in different parts of your infrastructure as part of an eXperience Level Agreement (XLA)."
Why do organizations switch to UXM?
"In practice, companies usually adopt UXM when they are experiencing issues. Those could be very specific issues, or people might be noticing that overall performance is falling below expectations. In that situation, UXM is a great tool for resolving those problems and improving performance.
And that's one good reason for adopting UXM, but what UXM can also do is detect issues proactively and prevent any loss of performance. My experience is that the issues that get reported to the support desk are just the tip of the iceberg.
So if you think your IT organization is fully aware of everything that's going on, then I'm afraid I've got news for you. Because all kinds of issues will be occurring without you realizing it. UXM gives you the clearest possible picture of all those issues, and gives you a head-start on resolving them. That means you can resolve issues before the users even notice that anything is wrong. And that's a second major advantage of UXM."
Can you give an example of that?
"Well, you have no idea how often issues occur but NO call comes into the help desk! A good example is a migration process that I managed, from Windows 7 to Windows 10. It was for a global organization with over 250,000 workstations. We were well into the migration process and we thought things were going smoothly.
But what we didn't know is that a large group of users were regularly seeing the so-called 'blue screen of death' (BSOD). But we never got to hear about it because none of them called the helpdesk. They simply restarted their computers, which fixed the problem for them.
We did some tests which showed that users who had already been migrated to Windows 10 were much more likely to be seeing the BSOD than those who hadn't. But the helpdesk had no idea this was happening and it took a long time before we noticed this too. So we wasted a lot of time and energy on those users, not to mention the loss of data. With UXM, we would have found out about it much sooner, and we could have identified the cause quickly and resolved the problem proactively."
And when there's a known issue, can you also track down the cause much more quickly?
"Sure. UXM allows you to look in exactly the right place right from the get-go. Imagine that on Thursday morning, the help desk receives a report that a user experienced issues on Wednesday at around 3 p.m., just after performing action X. With this information, you can start tracing the problem much more easily.
UXM enables you to spot patterns that you would otherwise miss based on one individual report of a problem. What are the parallels between those two moments? Were any issues logged? Were certain processes running simultaneously? That way you can look for the cause of the issue that the user has experienced, and then work on a solution. And that also makes the helpdesk happier, because you can give them a treasure map with a big red 'X' on it, so to speak. That makes their job a lot easier."
What does UXM mean for helpdesks?
"Being able to searching for an issue in a more targeted way is a major advantage. Actually, you can let the software do the searching for you, instead of doing it manually. When there are performance issues, you no longer have to hunt through the server, network and application logs. You can analyse them much faster. But more importantly, you can also see immediately whether the issue is affecting one user or a larger group of users. So it can make your help desk function a lot more efficiently.
It won't necessarily mean that the helpdesk has less work to do, although that's possible – but it will definitely improve the quality of the work they're doing. Support staff can start implementing a solution in a targeted way, so that they can focus on their core process: technology and solutions. It reduces the time they spend on communication around the issues that crop up. That's a huge benefit for most support staff.
And if you want, of course, you can also use UXM to take the pressure off the help desk and reduce costs that way. Many issues can be prevented with proactive monitoring. It all depends what your priority is and what your goals are."
Does this mean that UXM pays for itself?
"Undoubtedly. There's no question about that. UXM will make a major contribution to the productivity and satisfaction of your employees. It takes the quality of your entire IT infrastructure to the next level, saving users time, energy and frustration.
Sometimes people think that UXM is mainly about reducing helpdesk costs. And that can certainly be one benefit, but at the same time, if you are serious about reducing costs you need to look at things differently. The real savings come about through higher productivity and user satisfaction. Intermittent IT problems kill people's concentration, motivation and productivity. If you can solve those problems, your staff will perform much better. It really is that simple.
And of course, that higher productivity also extends to business processes. In some sectors, like logistics for example, every second is precious. Connectivity issues or system crashes really do cost money. So we can arrange for administrators or product owners to receive an alert whenever delays or system failures are likely to occur, for example. That kind of feature can really save money – the business case is obvious.
UXM can also play an important role in rolling out other aspects of the digital transformation. So if in the future you introduce Microsoft 365, or something like document management or Identity and Access Management (IAM), you can monitor the implementation process properly and make adjustments immediately if any unforeseen issues crop up. And then there are invisible issues, like the BSODs during the Windows 10 migration. Good monitoring hugely increases your chances of success.
It is important to realize that the value of UXM depends entirely on how the output is used. It's all very well monitoring hundreds of data points on a slick dashboard showing green and red fields… but that won't produce any results in itself, of course. You need to be doing something with all the data that's being generated. You need to make adjustments when performance drops below expectations. As long as you get that right, UXM is definitely a good investment."
Is UXM difficult to start using?
"User Experience Monitoring isn't rocket science. Personally, I have experience with Nexthink, but there are also other suppliers who can provide good tooling. But the technology itself is robust, and you can rely on it. The main thing is – how do you isolate the data that's valuable? You'll be generating a lot of data, so how will you process it all? What will you be looking out for? How do you interpret that data?
Installing and setting up the application is not usually a problem. But using it effectively is a whole different story. It's not a matter of 'just installing the software'. You also need to think about integration with the helpdesk, switching to new working methods (support processes, reports) and training support staff. And privacy legislation also needs to be considered. For me, as a transition manager, these are the most complex processes."
You can find a short interview with Rob specificially about privacy legislation and UMX on our website.
What are the implementation challenges?
"You have to imagine that hundreds of data points are being monitored and measured. Continuously. For every user, on every device. Desktop, laptop, smartphone, tablet – everything. There is data on the CPU, the applications, what kind of system is running, which hardware is being used.
You can look at things at the user level: which applications are being used at the reception desk, what is crashing, which printers and which domains are being used? Is there any malware, how full are the system discs, how good is the (internet) connection to various websites?
There's a lot of interesting data that you could potentially be useful. But how do you know what to do with it all? It can be overwhelming and you need to focus in on the data that is valuable. You'll be generating a lot of data, and you'll need to process it all. That requires knowledge and experience.
Implementation is not just about getting the technology up and running, but above all about integrating it into a new way of working within the organization. Because that's what you'll need to make optimum use of everything that UXM can do. And it doesn't stop once the implementation process has been completed.
But for me, these are the most fascinating processes at Transition Experts. As a transition manager, it's my job to make sure that the goals we set at the start are actually achieved. And that the organization will continue benefiting once the implementation phase has been completed. New technological developments and changing user needs demand IT structures that are adaptable and give companies more control. Deploying UXM can play a very important role in this."
Would you like to learn more about User Experience Monitoring?
We'll be happy to give you a free one-hour consultancy session to show what User Experience Monitoring could mean for your organization, with no obligation. For more information or to make an (online) appointment, why not get in touch with Gert Veldhuis at gert.veldhuis@transitionexperts.nl or on +31 (0)85 – 487 29 01?
About the expert: Rob Dekker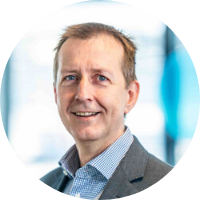 Introduction: Rob Dekker, experienced transition and project manager. Rob will be a familiar face for many, as one of the partners at Transition Experts. He has previously worked for big names such as Atos, Ernst & Young, Capgemini and KPMG. Rob was one of the founders of Transition Experts and with 25+ years of knowledge and experience, his clients have come to depend on him.
About this series of interviews
This is the seventh part of a series of interviews on Modular Digital Transformation (MDT). MDT is our way of making digital transformation more tangible: we split it up into smaller themes, such as blockchain, big data and RPA. These stand-alone modules allow you to focus very specifically on one aspect of digital transformation.
Catch up with all the previous interviews and publications in this series. Want to make sure that you never miss an interview in this series? Why not sign up for our newsletter? Then you'll get every interview right in your inbox!

Recent news

Digital transformation and process optimalization - two sides of the same coin
Digital transformation has become an essential theme for many companies and organizations in recent years. More and more business processes are digitizing in order to achieve efficiency and respond to changing market conditions. And although digitization can bring many benefits, it's important not to forget that simplifying and optimizing your business processes is just as important. Read more.

We are moving!
After 10 wonderful years in our office on Atoomweg, we are moving to a new office. But we're not going far. Our new office is also on Atoomweg, about 300 metres eastwards. Read more.